Spring 2023

Free Public Webinar:
 GBS, PROM & Waterbirth
Countless people are told, "You can't have a waterbirth because you are GBS positive or your membranes ruptured so it's not safe." This spring, we're excited to share a webinar with evidence-based information about debunking the myths surrounding Premature Rupture of Membranes, Group B Strep, and Waterbirth.
In this Evidence Based Birth® webinar, we will cover the updated research evidence on:  
 When your water breaks before the start of labor ≥ 37 weeks which is known as Premature Rupture of Membranes or PROM,  
The myths and rumors related to

Group B Strep,

How waterbirth can be an option for your labor, and

Debunking myths related to each topic based on the evidence!
PLUS we will reveal something exciting and new coming to Evidence Based Birth®! 
Join us as we dive into the latest research evidence and debunk the myths surrounding Group B Strep, PROM, and Waterbirth! 
Webinar registration is CLOSED. 
Sign up for the Evidence Based Birth® Newsletter to stay up to date on the evidence!
8:00 PM Eastern Daylight Time
2:00 PM Eastern Daylight Time
Stay empowered, learn more :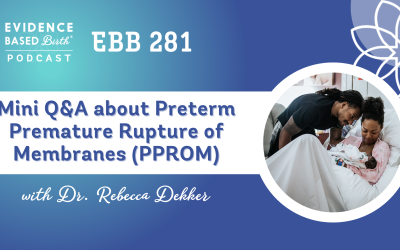 Don't miss an episode! Subscribe to our podcast:  iTunes  |  Stitcher  |  Spotify On this episode of the EBB Podcast, we bring you a mini episode on the research on Preterm Premature Rupture of Membranes. We are excited to share this episode as an extension of the...
We ask: What are the potential benefits and risks of Pitocin® during the third stage? What is the evidence for expectant versus active or mixed management?
Here we discuss the evidence on inducing for due dates! What are the Pros/Cons of induction when you are approaching or passing your estimated due date?