Hi! I'm

Rebecca,


and this is my family.
Welcome, Birth Pro! I'm so glad you're here, as that tells me you're passionate about helping your clients make empowered, informed decisions about birth.
Evidence Based Birth® exists to make a lasting positive impact on the lives of mothers and babies around the world.
I want to help put accurate, evidence based info into the hands of communities just like yours, so that in partnership we can produce a ripple effect of positive change around the world. If this resonates with you, I'd love for you to explore our site and learn more about what offer.
The best way to get involved with Evidence Based Birth®
is to join our Academy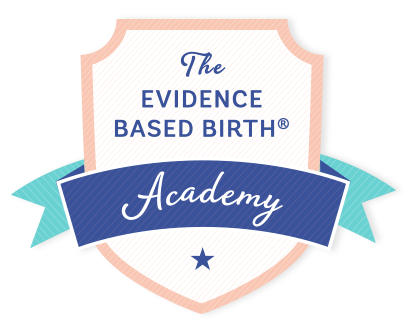 The Evidence Based Birth® Academy is our online portal for educating professionals about the latest research evidence on childbirth.
There are two main programs available in the Academy:
Instructor 
Training Program
Become an Evidence Based Birth® Instructor and you get everything in the Professional Membership, plus, you get to teach official Evidence Based Birth® curriculum to parents and professionals in your community! Open to certified doulas and childbirth educators as well as licensed nurses, midwives, and physicians. Applications accepted every Fall and Spring.
Professional 

Membership

The Evidence Based Birth® Professional CEU Membership offers 18+ hours of continuing education, monthly live training sessions, our entire library of full-length printer friendly PDFs, private forums, a private Facebook group, and direct access to Rebecca. Contact hours are good for nurses, nurse midwives, certified professional midwives, doulas, and childbirth educators.
Hear from one of our
Members…
"As a Lamaze Educator and doula for over 10 years, I am always looking for ways to stay current on research, build bridges between professional resources, and be an expert advocate for new and growing families. Having been in several professional organizations over the years, I appreciate most when continuing education is offered in a dynamic, easy-to-use way, and the take-always are solid, quality information that I can easily pass on to clients and fellowprofessionals.
The Evidence Based Birth® Professional Membership has been stellar!
The live trainings, forums, and professional sharing alone are worth hundreds of dollars and ensure that I feel like I am at the top of this ever dynamic field of maternity care. Rebecca and her team are responsive to feedback and on point with changes in maternal healthcare research, communication, and advocacy. I can not wait to see what next year brings."
Hear from one of
our Instructors:

Resources for Physicians:
Evidence Based Birth® also provides continuing education for physicians. All of the classes in our professional membership have been submitted to the American Academy for Family Physicians. Also, our enduring Material series activity, "Evidence Based Maternity Care for Physicians," from 09/06/2016 – 09/05/2017, has been reviewed and is acceptable for credit by the American Academy of Family Physicians.
Sign up for our EBB newsletter 
After you sign up, you'll gain access to:
Get ready for your crash course on Evidence Based Care! After signing up you'll learn what exactly evidence based care is, and what it isn't.
Receive important news from EBB! I will reach out to you monthly to let you know about the latest hot topics in the birth world.
Sign up and you'll have access to all of our 1 page pdfs for our Signature Articles. Print them and give them to your clients to help them have discussions with their provider about difficult birth decisions.
One-Page PDFs:
Suspected Big Babies
Failure to Progress
Eating and Drinking during Labor
IV Fluids in Labor
Vitamin K
Waterbirth
Due Dates
Full-Length PDFs of our Signature Articles:
We've created full-length versions of our most popular articles for you to really sink your teeth into! Parents love to take our full-length, printable PDFs to their appointments. These professional-looking handouts make talking with your care provider about the evidence you've read so much easier
25+ FREE online articles on the hot topics YOU care about
We have a huge directory full of articles which will answer the burning questions you've been curious about!
Or jump straight to our top 5 articles below
Buy EBB Inspirational T-shirts, Due Date Buttons & Birth Affirmation Cards