Hi! I'm

Rebecca,


and this is my family.
Welcome, Birth Pro! I'm so glad you're here, as that tells me you're passionate about helping your clients make empowered, informed decisions about birth.
Evidence Based Birth® exists to make a lasting positive impact on the lives of mothers and babies around the world.
I want to help put accurate, evidence based info into the hands of communities just like yours, so that in partnership we can produce a ripple effect of positive change around the world. I am constantly inspired by the work birth professionals in our community are doing each and every day.
If this resonates with you, I'd love for you to explore this page and learn more about what we offer.
– Rebecca
Rebecca Dekker, PhD, RN
Founder & CEO, Evidence Based Birth®
The best way to gain access to all Evidence Based Birth® resources is by joining our Academy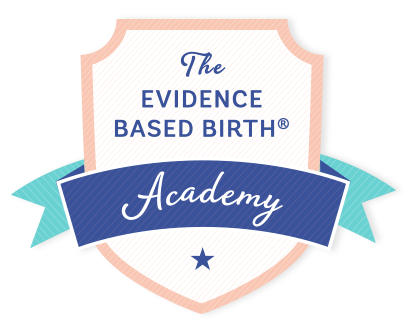 The Evidence Based Birth® Academy is our online portal for educating professionals about the latest research evidence on childbirth.
There are two ways birth professionals can
join the Evidence Based Birth® Academy:
The Evidence Based Birth® Professional CEU Membership offers 18+ hours of continuing education, monthly live training sessions, an entire library of our full-length PDFs, private forum, a private Facebook group, and direct access to Rebecca. Contact hours are good for nurses, nurse midwives, certified professional midwives, doulas, and childbirth educators.
Join our Professional Membership to become part of our community of change agents from around the world!
Become an Evidence Based Birth® Instructor
Teach the official Evidence Based Birth® curriculum to parents and professionals in your community! Open to certified doulas and childbirth educators as well as licensed nurses, midwives, chiropractors, and physicians. Applications accepted every year!
*Scholarship, University & group discounts available. Click "Learn More" above for full details.
25+ FREE Online Articles on Hot Topics YOU Care About
We have a huge directory full of articles which will answer the burning questions you've been curious about!
Or jump straight to our
top 5 articles below.
Our Popular Episodes Cover Such Topics As:
– Overview of Pain Management in Labor
– The ARRIVE Study
– The Evidence on Birthing Positions
– Pros and Cons of Membrane Sweeping
– Sterile Water Injections
– How Accurate are Due Dates?
– Pushing Through Anxiety in Birth
– The Evidence on Fetal Monitoring
& more!
Exclusive Email Resource:
One page handouts that coordinate with our Signature Articles, in both English and Spanish, will be instantly delivered to your inbox when you signup to our email list. Print them and give them to your clients to help them have discussions with their provider about difficult birth decisions.
Our One-Page PDF Handouts Include:
– Suspected Big Babies
– Failure to Progress
– Eating and Drinking during Labor
– IV Fluids in Labor
– Vitamin K
– Waterbirth
– Due Dates & More!
Premium Resource:
Full-Length Printer-Friendly PDFs of our Signature Articles
Need even more information than our one-pagers? We have full-length versions of our most popular articles for you to really sink your teeth into! Parents love to take our full-length, printable PDFs to their appointments. These professional-looking handouts make talking with your care provider about the evidence you've read so much easier. These PDFs are exclusively available to our Professional Members.
We all have to keep up with our continuing education requirements. 
But wait, you're also a busy birth pro! In between client appointments, attending births, and taking care of your own needs – don't you wish continuing ed was easier to access, and better suited to your lifestyle?
At Evidence Based Birth®, we've made it easy for you!
Get no-fluff, quality evidence-based information that you can trust, right at your fingertips! 
We have two ways you can fill your continuing education requirements with Evidence Based Birth®.
Evidence Based Birth® classes are pre-recorded, online courses, so you can watch the videos at your own pace. You'll also have access to handouts for taking notes. When you enroll, you'll receive lifetime access to watch the classes of your choice.
We have:
Our flagship 6-week course offering 7 contact hours on "How to help families get evidence based care"
Individual courses with up to 23 contact hours (20 hours approved for ACNM contact hours and the Midwifery Bridge Certificate; there are 23 nursing contact hours good towards most doula, midwifery, and childbirth educator certifications)
Over 50 archived monthly training sessions on hot topics in the field, and ongoing monthly live trainings offering contact hours
Join over 1,000 Birth Pros Making A Difference In Their Communities
We have Professional Members from all 50 states and over 10 countries.  This is truly an interprofessional community, as we have nurses, midwives, certified midwives, doulas, childbirth educators, lactation consultants, advocates, obstetricians, and family physicians among our ranks.
We want your clients to enjoy our resources, too!
Our Public Blog & One-Page Handouts
Encourage your clients to bookmark EvidenceBasedBirth.com/Blog to easily access the evidence for their informed decision making.
Doulas and Midwives, in particular, love recommending the EBB Childbirth Class to their clients! This class is now available in over 50 communities across the U.S. and abroad (with more to come)! We developed this class with the input of today's expecting parents, blending the convenience of online learning and personalized hand-on sessions with a dedicated EBB Instructor and mentor.
Students in this class will:
Get mentorship, community, and guidance! 

Learn about evidence based care, comfort measures, and advocacy.

Get prepared, get answers, & get empowered for birth!
What Professional Members Are Saying
"I wanted to be part of a factual collective with like-minded professionals. That I am able to look up information with attached creditable resources and reach out to knowledgeable peers at any moment helps ease any angst that I may encounter when I have to research questions from my clients."
"Evidence Based Birth® provides evidence information to better serve my clients. There is no BS. My credibility advances and clients trust my answers."
Header photo credit: Ariel Floyd Elliott, parent | Dr. Brad Bootstaylor, OBGYN