Fall 2021

Free Public Webinar:
 The

Evidence on Top 5 Ways to
Prevent Tearing during Childbirth
Tearing during childbirth is a common occurrence among people who have a vaginal birth. The updated evidence provides information on the outcomes for birthing people and how to prevent tearing during childbirth. 
In this Evidence Based Birth® webinar, we will cover:  
 Factors that increase the risk of tears, 

The potential consequences of tears, and

 The evidence on the top 5 most popular ways to prevent tearing during childbirth (do they work, or are they ineffective or harmful?). 
Join us as we dive into the latest research evidence on the Top 5 Ways to Prevent Tearing in Childbirth!
Webinar registration is open. Each showing is identical and occurs live. You only need to register for one!
CEUs are not provided; however, you will learn info about how you can earn CEs at Evidence Based Birth®
8:00 PM Eastern Daylight Time
2:00 PM Eastern Daylight Time
Stay empowered, learn more :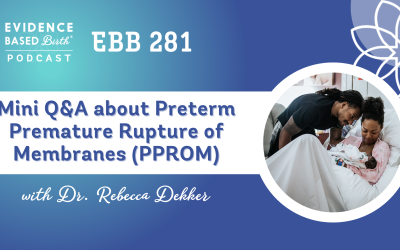 Don't miss an episode! Subscribe to our podcast:  iTunes  |  Stitcher  |  Spotify On this episode of the EBB Podcast, we bring you a mini episode on the research on Preterm Premature Rupture of Membranes. We are excited to share this episode as an extension of the...
We ask: What are the potential benefits and risks of Pitocin® during the third stage? What is the evidence for expectant versus active or mixed management?
Here we discuss the evidence on inducing for due dates! What are the Pros/Cons of induction when you are approaching or passing your estimated due date?