Fall 2020 

Free Public Webinar:
 

Evidence on the Top 5 Most Common Reasons for Inductio

n
In the U.S., about 41% of mothers (2 out of 5) said their care provider tried to induce labor! A recent study found that the top 5 reasons for attempting a medical labor induction include:
Being close to the due date
Experiencing health problems
Worry about being "overdue"
Waters had broken
Baby was getting too big
In this free webinar, we will look at the actual research evidence on induction for these top 5 reasons!
Webinar registration is open. Each showing is identical and occurs live. You only need to register for one!
CEUs are not provided; however, you will learn info about how you can earn CEs at Evidence Based Birth®
8:00 PM Eastern Daylight Time
2:00 PM Eastern Daylight Time
9:00 PM Eastern Daylight Time
Stay empowered, learn more :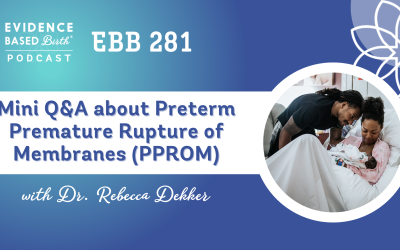 Don't miss an episode! Subscribe to our podcast:  iTunes  |  Stitcher  |  Spotify On this episode of the EBB Podcast, we bring you a mini episode on the research on Preterm Premature Rupture of Membranes. We are excited to share this episode as an extension of the...
We ask: What are the potential benefits and risks of Pitocin® during the third stage? What is the evidence for expectant versus active or mixed management?
Here we discuss the evidence on inducing for due dates! What are the Pros/Cons of induction when you are approaching or passing your estimated due date?